Guide to the Temple Grounds
Pure Land Garden
The Pure Land Garden is arranged such that the temple, garden, and pond are unified as one.
To the north is a hill called Mt. Doyama, before which spread out the wide open temple and garden complex.
The pond here is called Oizumi ga Ike. The pond-centered garden was
laid out in accordance with the precepts of Japan's oldest garden manual,
Sakuteiki ("Treatise on Garden Making"), and includes elements like a
peninsular beach area, rocky coastline and great rocks protruding from
the lake's surface, bridges, mountainous elements, and a feeder stream,
giving this garden area exceptional academic importance as well.
Its beauty remains essentially unchanged for eight centuries,
blending harmoniously with the surrounding trees to form an eternal landscape.
Rinchi Monastery Remains (Historic Site)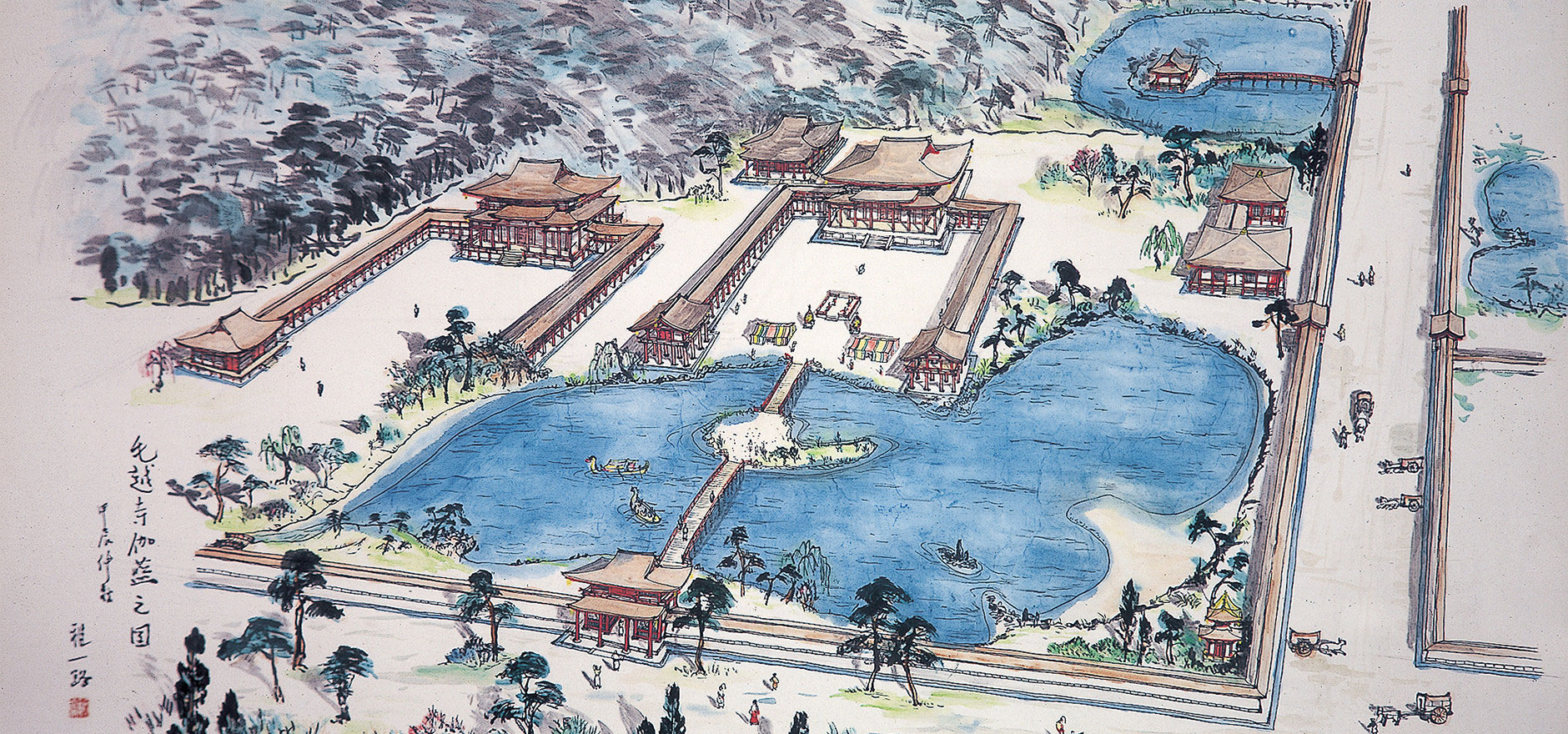 The temple grounds still contain many foundation stones and other relics
from the Doto Monastery, which was erected during the Heian period.
The garden, which is centered around Oizumi ga Ike Pond,
also provides evidence of the original form of the graceful landscape from the Heian period.
As one of the most important sites in Japan's garden history,
Motsuji's temple garden has been excavated and fully restored to its original state.
Temple Complex
Click the text in the photo for more details.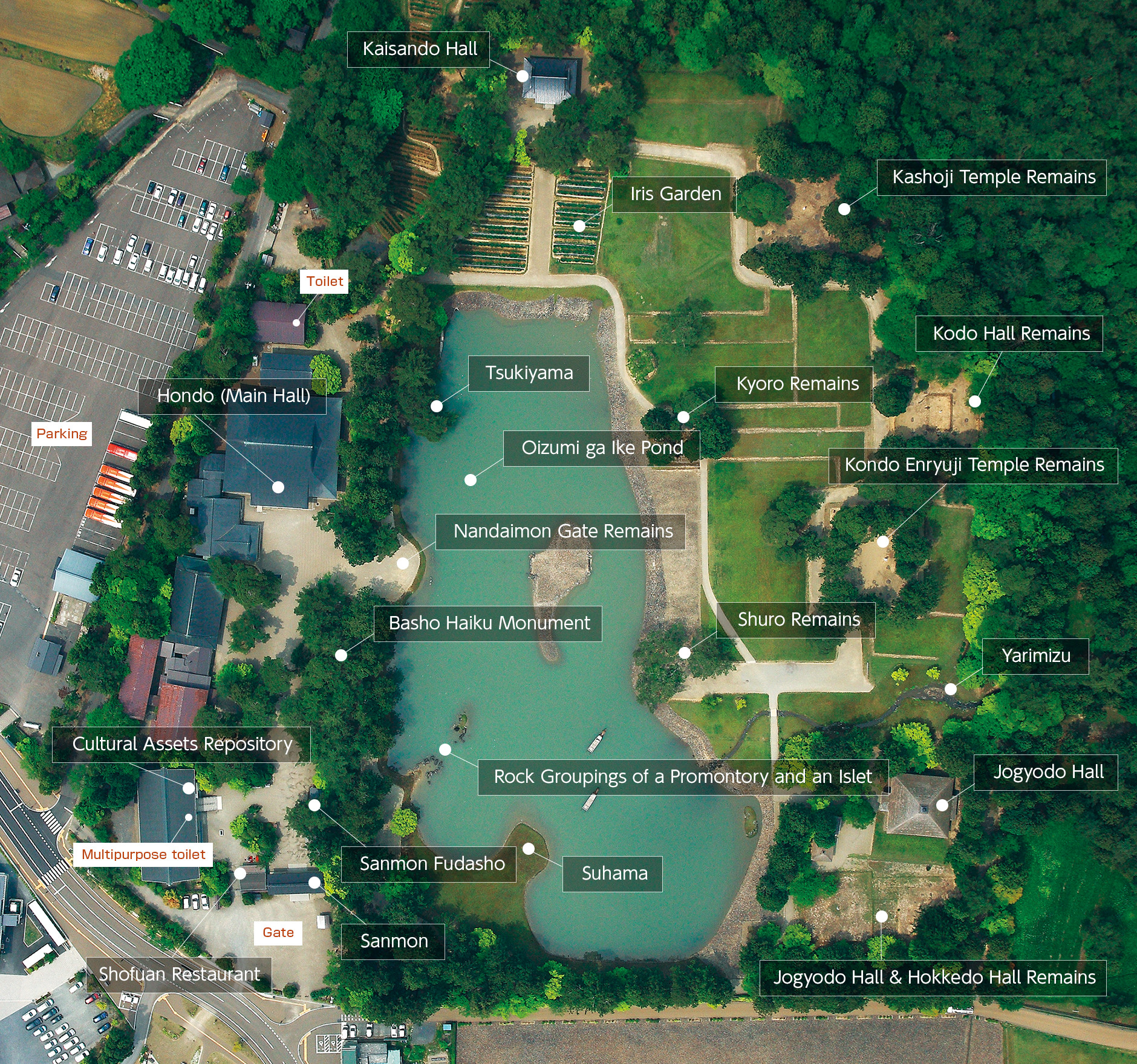 Motsuji Temple contains barrier-free facilities so that it is accessible to everyone.
-Elevators (Cultural Assets Repository)
-Multipurpose restrooms
For Starters
SanmonThis is the entrance to Motsuji Temple. Please obtain your admission ticket here first. Three plaques can be found here: "Special Historic Site," "Special Place of Scenic Beauty," and "World Heritage Site."
Sanmon FudashoYou will arrive at the fudasho right after entering the gate. If you would like a goshuin (seal stamp) for Motsuji Temple, bring your stamp book here when you arrive. It will be available here when you return after having toured the grounds.
Poetry MonumentsAlthough it is in an inconspicuous location, a stone monument in Basho's own hand that reads "The summer's grass / 'Tis all that's left / Of ancient warrior's dreams" can be found as you head towards the Hondo (Main Hall) from the Sanmon, along with a nameplate and a third monument containing an English translation by Morioka native statesman, Nitobe Inazo.
Hondo (Main Hall)The Hondo (Main Hall) is the center of contemporary Motsuji Temple. The primary object of worship is a statue of Yakushi, the healing Buddha. Visitors usually pray to Yakushi for health and recovery from disease. Omikuji (paper fortune telling) is also located in front of the Hondo. People do not clap their hands at this temple. Instead, they are silently pressed together in worship.
Shofuan RestaurantSoba noodles and sweets are available for purchase here. Come rest your legs! Ennen-cha tea, which is only found here at Motsuji Temple, will help you breathe easy.
Click here for details
Cultural Assets RepositoryThe repository is a must for anyone wanting to learn about the history of the temple and life in the Heian era. We recommend going here first.